Información
Elsa y Fred
Dirección: Carrer del Rec Comtal, 11, 08003 Barcelona, España

Teléfono: +34 935 01 66 11
Horario
Lunes: 8:30–1:00
Martes: 8:30–1:00
Miércoles: 8:30–1:00
Jueves: 8:30–1:00
Viernes: 8:30–1:00
Sábado: 9:00–1:00
Domingo: 9:00–1:00
Fotos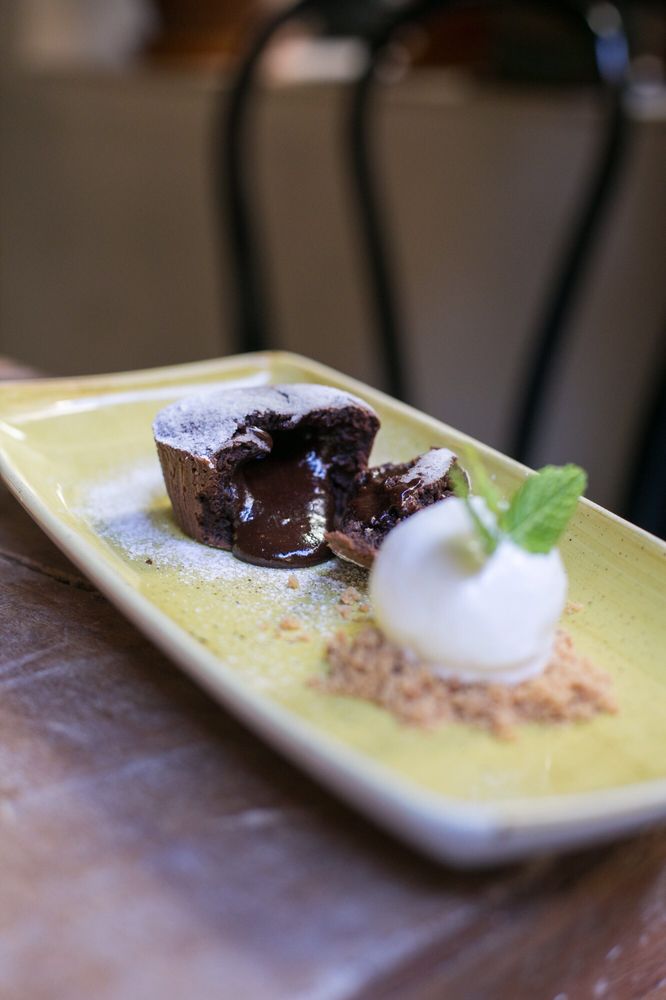 Opiniones
5 sobre 5 Un lindo sitio para comer unas tapas... Las tartas exquisitas y tienen varios tipos de cafés, uno mejor que el otro. La atención de las chicas excelente, el local estába a tope llegamos 5 personas, una beba con el coche nos acomodaron una mesa y nos atendieron muy bien! Por Anita Marín
5 sobre 5 Cuesta conseguir mesa. El trato excelente. Un poco de caos con los platos (nos trajeron cosas que no habíamos pedido). Muy recomendable. Por johnshure
5 sobre 5 Tienen unas tapas muy buenas y originales. El mobiliario y ambiente muy acogedor y cómodo. Tienen menú de lunes a viernes. Y carta. También tienen tereaza. El servicio muy amable. Por Maria del Carmen Ribera Rosanes
4 sobre 5 Buena comida y excelente atención. Las mujeres que atienden son profesionales sin perder la simpatía y la cercanía. Por Stella Demonte
4 sobre 5 Lugar acogedor y trato amable! Tapas y bocatas sabrosos. Postres también buenos! En Atrápalo figuraba en la sección de vegetariano-mixto y precisamente la carta no representa esa opción vegetariana, una lástima. Por todo lo demás, genial😋 Por Alvaro Grilo
5 sobre 5 First visit: Delicious tapas, good wine, friendly service. I gave five stars a few days ago. Update (second visit): We went to the Opera and went to have dinner at our hotel (located close by) but found the hotel's kitchen already closed. So, we went (for the second time this week) to Elsa and Fred and despite being almost midnight they got our orders and served DELICIOUS food with smiles. We were the last ones to leave the restaurant and they didn't rush the service. It was , once again, AMAZING. This place deserves TEN STARS. Five isn't enough to translate how good it is! Por Cecilia Teixeira
5 sobre 5 You'll need reservations! We got lucky that there was a table outside on the patio and they don't include those spots in the reservations. But we loved sitting outside. The food was great, the drinks were great, and the service was amazing! Por Mylissa Russell
5 sobre 5 Best tapas in Barcelona! We enjoyed our dinner so much! The restaurant is fancy, modern and clean. The waitresses are friendly and helpful. But best of all is the food! Try the calamaris and tuna tartare, it's the best! Oh and the cheese plate is also worth trying! We definitely will come back if we visit Barcelona again. Por A.H. Luu
5 sobre 5 Wonderful place to relax and enjoy a well prepared and presented meal. Tapas are the order of the day and you can order to share. Really tasty and delicious dishes. Stop by one evening after work bring a few friends. Cozy and charming. You will Forget you are in a restaurant and think you are at home. Por Gwen Benson
4 sobre 5 This place is cozy, chic & clean. Good service with a smile. I would have given 5 star if it wasn't for the small portions & the price. Otherwise great place to eat. Por Peter Carcamo
Al entrar destacan dos cosas: la decoración y el ambiente. La primera, muy original, una mezcla entre moderno y vintage que crean un espacio único.... Por Pablo F.
100% de acuerdo con todo lo reseñado hasta ahora: - El local tiene un decoración de 10 aunque demasiado familiar en restaurantes con opción a brunch.... Por Alejandra A.
Situado en uno de los barrios más de moda de Barcelona el Born, encontramos este acogedor bar de luz tenue y ambiente cosmopolita. La carta breve y... Por Christian S.
We went for our last day in Barcelona. We glad we did. We got the egg with iberico, it was so good and service was so quick. Bonus point for opening early 🙂 Por Candice L.
Based on Google reviews, I expected this place to be absolutely amazing, but to be completely honest except the nice setup and ambiance, everything was just... Por Tana R.
High end prices and good food. Probably a bit too pricey for what you're getting, but the restaurant was clean and trendy. The staff was great. This is... Por Bil M.
Mapa
RESEÑAS DE NUESTROS AUTORES 😉
¿Quieres enviarte este local a tu correo o enviárselo a un amigo?
Envía este Post por Email