Información
Templo del Sagrado Corazón de Jesús
Dirección: Cumbre del Tibidabo, 08035 Barcelona, España

Teléfono: +34 934 17 56 86
Horario
Lunes: 11:00–21:00
Martes: 11:00–21:00
Miércoles: 11:00–21:00
Jueves: 11:00–21:00
Viernes: 11:00–21:00
Sábado: 11:00–21:00
Domingo: 11:00–21:00
Fotos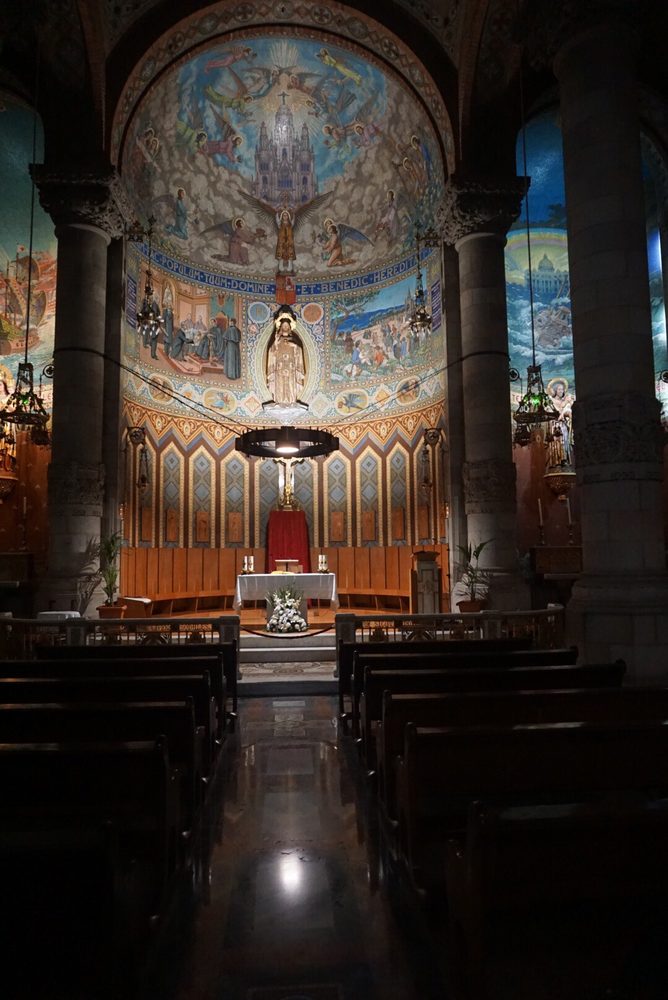 Opiniones
5 sobre 5 Una experiencia inolvidable. Sentir el cielo en la tierra. He disfrutado de unas vistas maravillosas. La atención por parte de la comunidad salesiana excelente. Muchas gracias. Por M. Teresa Pozo
5 sobre 5 Es la iglesia mas linda que he visitado. Vale la pena subir en el ascensor hasta la parte mas alta para ver toda la ciudad. Hay una energía muy bonita en ese lugar Por Liliana Velásquez
1 sobre 5 El templo muy bonito. Las vistas preciosas. El precio para subir al mirador... 4€, algo subido el precio. Mención especial para los dos prepotentes e inútiles monaguillos que se encargan del ascensor y del acceso al mirador. Menos bíblia y más educación y empatia con los visitantes. Por Pepe C
5 sobre 5 Preciosa arquitectura en un lugar maravilloso con extraordinarias vistas de toda Barcelona. Un lugar para respirar aire limpio y donde relajarte viendo estas vistas increíbles. Tal como subes antes de llegar al cruce existe una casa a mano derecha donde existe sitio para aparcar GRATIS. Por Christyan Martos Fotografía
3 sobre 5 Es impresionante esta gran obra. Tanto por fuera como por dentro. Fundamental sacar la entrada por internet si se quiere visitar internamente Por Pablo Vitale
5 sobre 5 Stunning view over Barcelona. Surprisingly there is a great amusement park at the top of the mountain. Go late afternoon during summer as it will be boiling hot standing in line for some attractions. Visit the temple and take the lift and stairs up to the Jesus Christ statue at the top of the temple and you will have a world class view. From the amusement park you can get a great spot for photos in the attraction right at the entrance which will take you high up in the air between the temple and the city view. Amazing! Por Salomon Mir
5 sobre 5 This place is pretty cool, because you can get a wonderful view of Barcelona from the top of the church for about $4 euros. In addition, there is an amusement park right next door where you can eat and get on rides. Overall, the place is pretty cool. I am not much of a religious person but the building pretty cool to look at and explore. Por jeffery usher
5 sobre 5 Beautiful church, next to an amusement park. We came early to join the 8am mass however we didnt realize the entrance was on the side door right before the main doors. We were able to go in an pray after since we couldn't wait until the 10am mass. The main door to get to the courtyard doesn't open until about 11am. Even though we couldn't go into the courtyard area the view of the church is still amazing and if you walk towards the amusement park side, there is a overlook to view Barcelona. On a sunny cloudless day it was beautiful. Por Van&Julie Travels
5 sobre 5 We didn't get to go all the way up since we had to leave for our flight. But it's definitely worth the trip. The cathedral is amazing and the view alone is worth it. We loved Barcelona and this was the topping on the cake. The amusement park is right there too so if u have kids it's a good place to go. Por Hunter Beltz
5 sobre 5 Beautiful basilica with several chapels. 17,00 Sun Mass is held in the Adoration chapel. Taking the elevator to the upper deck is very worth it for the views. Beautiful stained glass windows inside, and facade carvings outside. Highly recommended! Por Daniel Bloemer
En sí el templo es muy bonito. Pero lo mejor de todo, es subir a la parte más alta. Unas vistas de Barcelona y alrededores impresionantes, 360º. Divino. La... Por Laura V.
We visited Tibidabo mid-morning in mid-July. We toured the area around the cathedral first and then went in for a visit. The cathedral is very tall and... Por Chris F.
This was a truly beautiful and intricately designed Gothic-style cathedral, based on the Sacre Coeur/Sacred Heart in Paris and similar in that they are both... Por Asha S.
Sharing the top of Mount Tibidabo with the Tibidabo Amusement Park (http://www.yelp.com/biz_photos/jpK2s2PbB6qeJAP4qbwMoQ?select=SDWhX5bSIe9EnoZCDjDIHg... Por Andrew C.
Mapa
¿Quieres enviarte este atraccion a tu correo o enviárselo a un amigo?
Envía este Post por Email